That small gesture set the tone for International Women's Day, a global celebration of the achievements of women and a day that focuses on a call to action for accelerating gender parity.
And this morning at the BDF's Price Barracks, International Women's Day meant a luncheon for female personnel across all of Belize's defence forces, as well as some encouragement for the soldiers from some specially invited guests.
Our news team was there and here's a look at what was said on the podium.
The women of Belize's Police Force, Coast Guard and BDF gathered at the Price Barracks compound this morning for a Luncheon to Celebrate International Women's Day but one with a particular emphasis on Women in the Security services. And leading off the speeches with a look at the special efforts that the BDF has made in this area was Brigadier General Azariel Loria:
Brigadier General Azariel Loria, Commander, BDF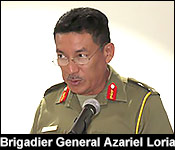 "You have made it your commitment to join a dangerous and risky position but you are soldering for the love of your country and the uniform that you wear."
"I am pleased to inform you that the BDF recruited 5 female officer cadets last year and sent them abroad to the United States Of America to undergo officer training and return to be commissioned as Second lieutenants. We have recently recruited at our latest officer's selection board 10 officer cadets of which 5 are females and that was based on their performance and proficiency. This is testament that we value equity and in due time they too will undergo officers training and return command a platoon."
But even with those commissions and affirmative placements, the culture of security services often puts women last. It's something that Special representative Rhea Rodgers this morning said will change but not at once.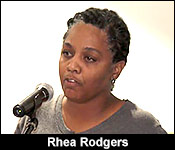 Rhea Rodgers, Special Representative, Ministry Of National Defense
"These gendered roles within the security forces are learnt, so they are changeable, within our organizations there is opportunity for growth, opportunity for camaraderie, an opportunity for community. People sometimes ask if it's not discouraging how slow progress happens and sometimes it seems to even go backwards. Well let me tell you something progress is not linear it fluctuates."
And that's not just true for Belize's armed forces, it's even been true for the British army. Special invited guest Bonnie Nicole told the invited guests that women in the army don't require special treatment that sets them apart from their male comrades, they simply require equity.
Maj. Bonnie Nicole, British Army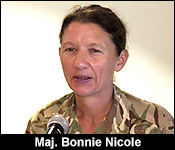 "The security forces have always understood equity. If you think about uniform, equality means giving everyone the same boot, size 5, size 7 – no, you all have size 6 boots. That equal for everybody. But that doesn't make sense, because you are going to have less operational effectiveness, so we've always understood that. Some men are tall, some men are short, some men need a bench to see over the trench. It's all about making sure that people have the resources to have the same opportunity to succeed. That's what we mean."
And rounding out the speeches was Special Envoy for Women and children, Rossana Briceno. She challenged the BDF on some of its more recent challenges but expressed hope that the conditions that caused those issues can and will change.
"I believe and I am hoping with a dash of sugar on top I say that, that the Belize Defence Force has demonstrated that they are indeed embracing equity."